Pure Kelso Trios


POULTRY SHOW FOWL
Young Kelso Trios . . . . . . . . .$1000
Select Young Kelso Trios . . . .$1200
Mature Kelso Trios . . . . . . . . $1200
Select Mature Kelso Trios . . . .$1400
If you come to the farm and pick them, they are select!!
(This price includes shipping box . You pay $110 shipping charges.)
Chickens will be shipped through the post office.
Pure Rocky Top Kelsos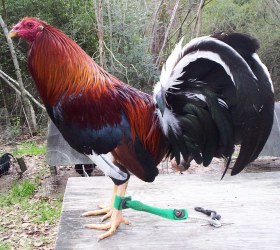 Pure Kelso Cock K#
We have had this line of Kelso since 1977.
Over the years, we have line bred them to have all of the things that are required to win consistently! These are "ROCKY TOP KELSOS".
We have had them almost 40 years; which is probably
longer than Cardinal Club, Jumper, etc. etc. has had theirs.
They are what we have made them.
Our Kelso comes about 40% white legged and 60% yellow legged.
They come about 60% dark red and 40% light red.
It depends on what cock you breed. If you breed a dark red, white legged cock, you will get mostly dark red, white legged stags.
If you breed a light red, yellow legged cock, you would get mostly light red, yellow legged stags.
As far as quality, we have not found any difference in the leg color or
feather color. It is just whatever color you prefer.
Some come with a white streamer and a small amount of white
in their wing tips, and some come without.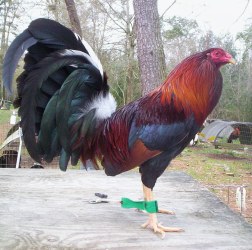 Pure Kelso Cock K#
Our Rocky Top Kelso come medium to high station.
They are not short. They have enough height to win at the
Poultry Shows.
These chickens are average size. Our cocks usually come between 4:10
to 5:02 pounds and crosses very well with most quality chickens.
These Kelsos are beautiful fowl that wins good .
These Kelso fowl show well in any type of show.
It is up to the customer to decide the age of their trio.
Some people would like older trios that have been shown,
others may choose to go with stags and pullets
because of the fact that you have longer to breed them.
On good thing about these Kelsos is that they show good pure!
Pure Kelso Cock #323
#323 is no longer available,
but have some that looks like him.
We strive for cocks that will be with you in the long run.
You never know when you will get into a long hard show; therefore,
it is nice to know they can pull it out if you need it!
In today's competition you need everything.
We believe these cocks have all you need.
To anyone that purchases a pure trio:
Breeding them Pure works really good, but
if you want some extra hens at a reduced price,
you can buy a couple cross hens
to make 3/4 and 1/4.
I'm not saying that they are any better
than the Pure Kelso or the 1/2 Kelso and 1/2 Hatch,
but they will produce you good show birds.
We just recommend the crosses when you are
purchasing extra hens because of the price.
For more Photos!!
*Photos may be slightly lighter or darker depending on shadows and photo quality.
If you have any questions, comments, or would like to purchase
call us at (601) 798-8353.
Please make money orders payable to Monica or Ronnie Amacker.
If you make the money order payable to the farm name,
it will be returned to you.
Ronnie & Monica Amacker
39 Joe Lumpkin Rd.
Carriere, Mississippi 39426
English (601) 798-8353
Best to call between 5pm - 9pm central standard time
Spanish (346) 907-2243