Pure Sweater Trios

POULTRY SHOW FOWL
Young Sweater Trios . . . . . . . . .$1000
Select Young Sweater Trios . . . .$1200
Mature Sweater Trios . . . . . . . . $1200
Select Mature Sweater Trios . . . .$1400
If you come to the farm and pick them, they are select!!
(This price includes shipping box . You pay $110 shipping charges.)
Chickens will be shipped through the post office.
Pure Rocky Top Sweater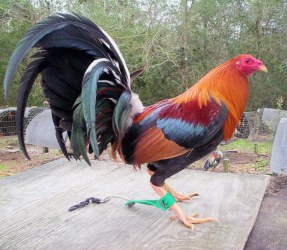 Pure Sweater Sw#
Our Rocky Top Sweater come medium to high station.
They have enough height to win at the
Poultry Shows.
These chickens are average size. Our cocks usually come between 4:12
to 5:04 pounds and crosses well with most quality chickens.
Some come with a white streamer and some come without.
These Sweaters are beautiful fowl that can win.
It is up to the customer to decide the age of their trio.
Some people would like older trios that have been shown,
others may choose to go with stags and pullets
because of the fact that you have longer to breed them.
One good thing about these Sweaters is that they can show pure!
Pure Sweater Sw#
To anyone that purchases a pure trio:
Breeding them Pure works really good, but
if you want some extra hens at a reduced price,
you can buy a couple cross hens
to make 3/4 and 1/4.
I'm not saying that they are any better
than the Pure Kelso or the 1/2 Kelso and 1/2 Hatch,
but they will produce you good show birds.
We just recommend the crosses when you are
purchasing extra hens because of the price.
For more Photos!!
*Photos may be slightly lighter or darker depending on shadows and photo quality.
If you have any questions, comments, or would like to purchase
something, you can e-mail us at rockytop@bellsouth.net or
call us at (601) 798-8353.
Please make money orders payable to Monica or Ronnie Amacker.
If you make the money order payable to the farm name,
it will be returned to you.
Ronnie & Monica Amacker
39 Joe Lumpkin Rd.
Carriere, Mississippi 39426
English (601) 798-8353
Best to call between 5pm - 9pm central standard time
Spanish (346) 907-2243